ReCARES is a small volunteer-run environmental and community service non-profit organization. We aim to increase access to medical equipment and supplies while reducing unnecessary environmental waste.
We collect donations of clean, gently used medical equipment and supplies, then redistribute them for free to seniors, people with disabilities, and other individuals in need.
Support our mission:
ReCARES serves over 5,000 people a year and distributes more than 10,000 items ranging from wheelchairs to adult incontinence supplies and personal care items throughout the Bay Area. By doing so, we have kept tons of medical waste from going to landfills.
Locations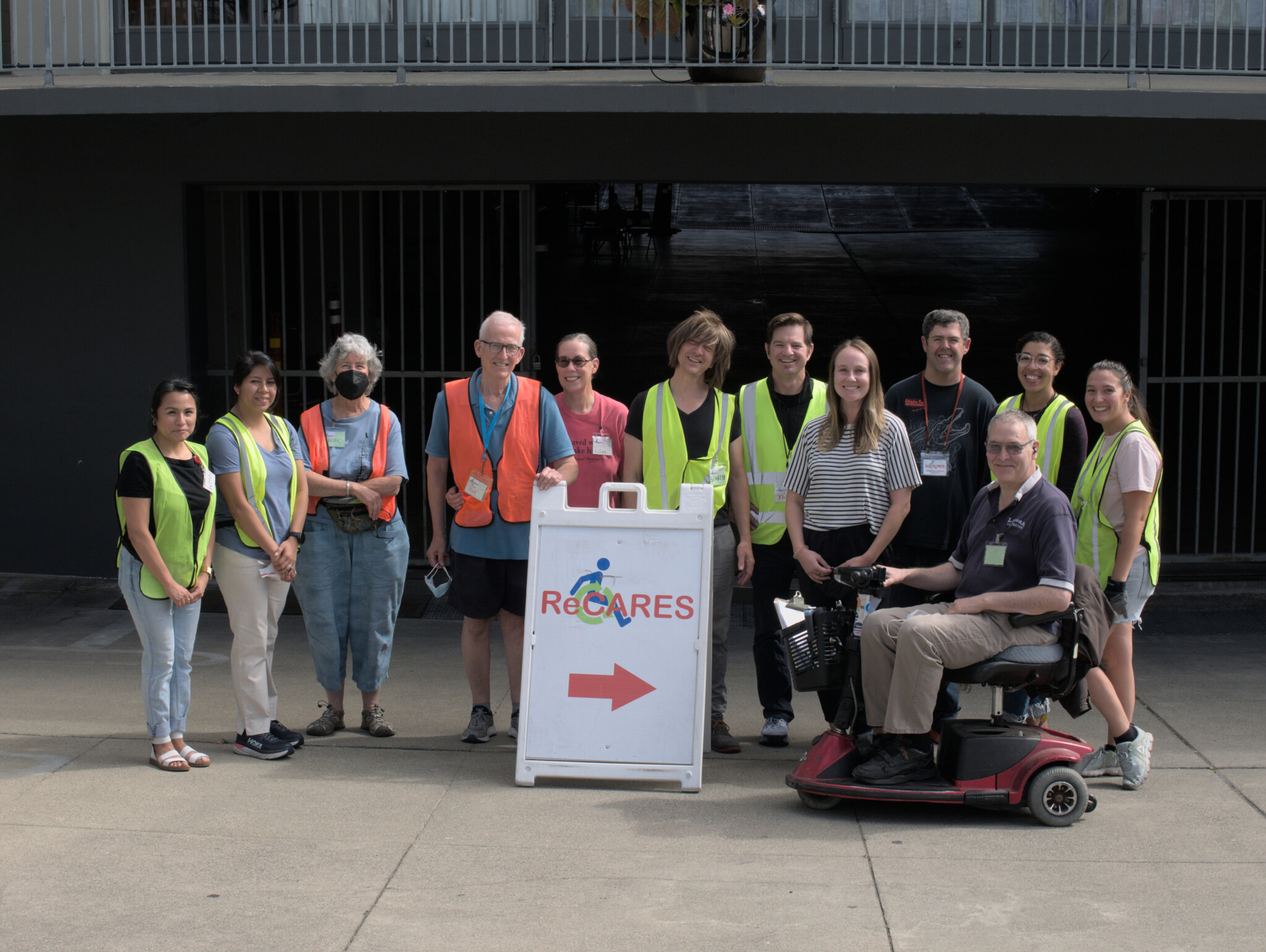 Open Hours:
Fridays, 12 PM-4 PM
Address:
2619 Broadway, Oakland, CA 94612.
In the underground parking lot behind the 1st Presbyterian Church. Entrance via 27th St. GoogleMap link
Voicemail: 
510-251-2273
Open Hours:
Thursdays, 10 AM-3 PM.
Address:
63 Dorland Street, San Francisco, CA 94110.
Voicemail:
415-487-5405
Open Hours:
Wednesdays, 11 AM-2 PM
Address:
3100 Kerner Blvd, San Rafael, CA 94901
Voicemail:
415-388-8198
To learn more, please visit their website www.marinmer.org
Before calling any of our locations, please read our website carefully to learn more about how to donate/receive equipment and supplies. All our phone numbers are voicemail only. If this is an emergency, call 911.
---
What would you like to do?
Oakland Site Closure 9/22

ReCARES Oakland will not open on 9/22. We will open again the following Friday on 9/29. Thank you for understanding.

Volunteers Needed at ReCARES Oakland

YOU CAN HELP increase access to medical equipment and supplies while reducing unnecessary environmental waste. How? Come volunteer at ReCARES! Our volunteers are caring, good listeners, great Tetris players, and experts at tidying up and organizing. Overall, they are eager to create a more inclusive society while also loving our …

Read more

Oakland is NOT accepting commodes until further notice

We have received so many donations of commodes that we currently CANNOT accept more until further notice. Our staff is working hard in finding organizations that might be able to receive this excess inventory. If you work, volunteer, or know of an organization that could take all or some commodes, …

Read more
What does the community say about us?
---
Oakland
Anne Willson
20:29 09 Sep 22
This place is so great! They have so many care items from wheelchairs to bandages. The staff is so

...

helpful and only ask for a donation. Also a great place to donate care items.

read more
La hija de nadien "La Hija De Nadine"
22:25 31 Aug 22
I love this place you can get free medical supplies and medical equipment like wheelchairs walkers

...

canes anything that has to do with medical needs

read more
See All Reviews
San Francisco
Melinda Perez
03:58 12 Aug 22
I want to Thank the Main Guy there, He was such a Sweetheart and so Very helpful, Just thought I'd

...

share this, Very much Appreciated for the Walker he gave me!! His helpers were Very Sweet too, except for one lady who went way out of her way to be Rude!!!!!

read more
Cindy Navarro
02:50 19 Jan 22
Great group that helps the community immensely by sanitizing used medical equipment and

...

redistributing to people in need. Keeps it out of the landfill and supports the community's needs.

read more
See All Reviews
Marin
SATOMI HOSHI
22:07 13 Jul 22
They are very kind. The place is kinda hidden, it's located behind a building that shows 3100, and

...

you can see shatters of the bulding when you go behind it, and the place is the opposite side.

read more
See All Reviews